These will go up on my art page soon (to be followed by others), but you get them here first, because the gloryblog readers are my favorites!

I decided I needed to get some pictures of me with my favorite cartoon characters, so I invited them over to my apartment.




Me and my newest comic obsession, Krazy Kat, being pelted here by Ignitz the mouse with a brick. They're very tiny and played around on my computer desk for a while.




My favorites, the Charlie Brown gang. Snoopy and Linus are my two favorites from the strip, and of course I had to have Charlie Brown himself, and Woodstock was small enough to tag along with Snoopy. Besides, Woodstock wanted to visit the bird farm in town. We're hanging out on my balcony. Snoopy seems a little nervous that I'm paying him attention. He never took his shades off.




In the kitchen with Garfield and Odie. I personally don't mind that every one of their strips are the same joke over and over.

And lest we forget this lovely day when Carrie met her counterpart "Carrie."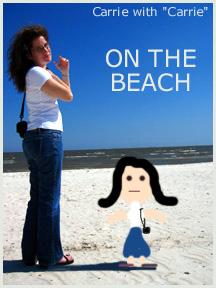 See you next time!