Just when you thought we were gone, we're back for a joint post to celebrate one whole year of the GLORY!blog. We've had a lot of glory in the last year. Here are some of the highlights:

Our first good post was the one where we said what celebrities we look like. Here's Rusty as Kieran Culkin and Carrie as Rudi Bakhtiar. Thanks to Rudi for all the Google hits since then.




On April 8th, Rusty got a good post title in with "Please Don't Tamper With Texas."

We took this photo in San Antonio and used it as our GLORY!blog official photo until we got the more dressier one at Carrie's brother's wedding in San Francisco, CA. When we make a trip to the Bridge of San Luis Rey, we'll have a third one.




And...the same magic trip to San Antonio got us the first comic by Rusty -- not a Carrie comic yet, but certainly a predecessor.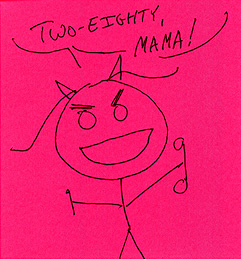 Of course just a bit later Rinky-dink posted the very first "Carrie" comic based on the night when Hoffy kept asking where the "gerbage" was.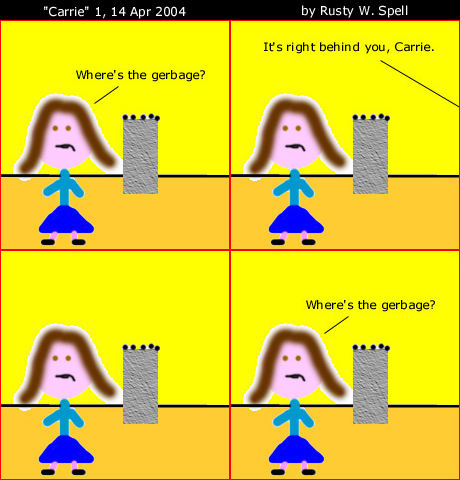 On April 18, Ruckabee posted his famous sentence, "I am a bastard who licks his own brown," and of course we like to talk about our own brown all the time now. (And our grumps. Keep your eyes off our grump-a-dump-dumps.)

On May 10, we posted the first digital photo--us jumping on the trampoline. This was also around the time we made the famous mis-statement, "Go away, jerks. We're hee-hawin'" and alienated our faithful GLORY!readers. We made up for it by getting our cameras just in time for our big trip to the Sunshine State, Carrie's hometown--here's Tommy's favorite picture of Rimble-cakes flipping off Ellen Degeneres.




You may notice that all the jokes referenced so far have been Rusty's, and so you will understand Carrie's only comic, dedicated to Tommy Burton who has consistently refused to give us comments.




And don't forget the day Carrie gave you the GLORY!blog uncensored -- photos they dared not show.




Of course you still remember the most classic GLORY!blog post -- our response to Morgan Spurlock's Supersize Me -- when Carrie dressed up as an old woman for a whole week and discovered that life as an old person is tough.




Remember this guy from June 30th:




Here's a picture of Rusty that only ever appeared here on the GLORY!blog:




And here's two pictures from when Carrie was on her dismemberment kick:




And here is the classic picture of "The Daily Boo."




Election Day, 2004, tied for best post with the days Carrie dressed up as an old lady:




We get lots of foot fetishists visiting 'cause of our feet photos. Pia once told us the name for foot fetishes but we forgot. These pictures, combined with our early reference to Alyson Stoner, gets us hits from pedophile foot fetishists.




You thought you had fun decorating your tree.




And don't forget all of the fun and interesting Christmas facts that Rusty told us during the holidays--especially, "Christmas farts contain magical healing properties."

Then we got married.




TODAY!




We did a lot in a year, you bitches. Now comment.